A doorway to meeting Israel Adesanya
During lockdown 2020 I was invited by 'Grace' to offer my skills and wisdom in order to bring light to a conflict situation she shared with her partner. I affirmed my availability and asked for her partner's name.
She said "out of protection for him I don't want to say his name because he is a famous sportsman." I confidently assured Grace that there is a 99% chance I won't know who he is. She didn't buy it – "You will" she replied" I KNEW I wouldn't.
This was the doorway to meeting Israel Adesanya.
The first visit
In my first visit with this man who has millions of followers online, I said – I don't know who you are.
I think me not knowing his social world of fame provided a neutral space for him.
Magical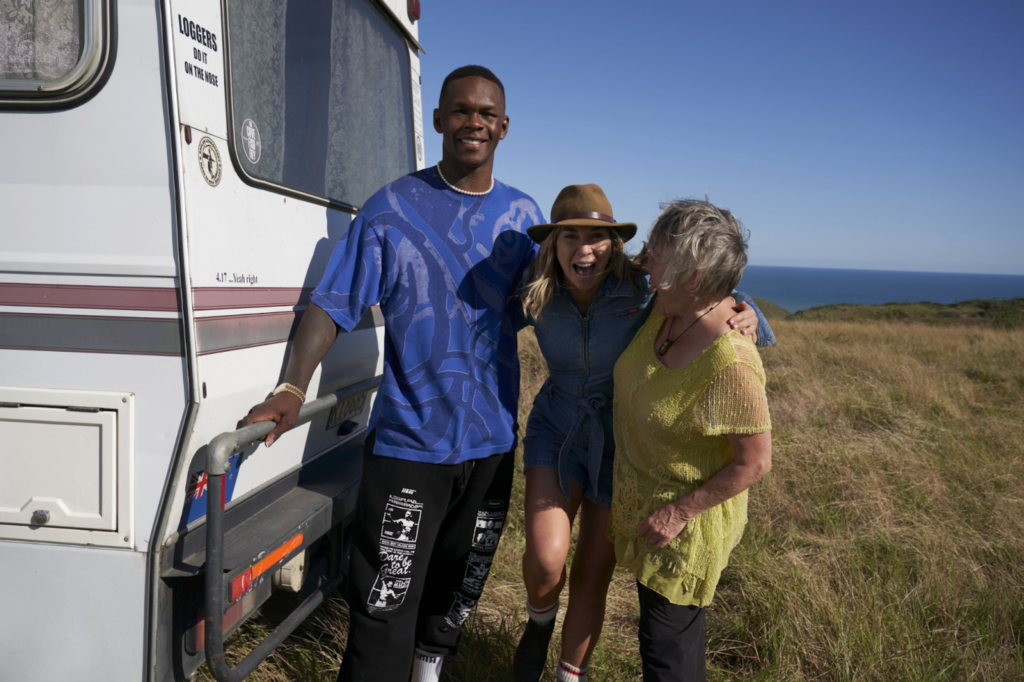 Around the same time I met Zoe Mcintosh, the documentary director. She attended 'Building Communication Bridges: Inside & Out'. At the checkout of the training she said "What you do is magical and needs to be filmed!"
Such was my journey to my part of Israel Adesanya The Movie.
The movie
During summer month zoom calls when Israel was only in shorts I noticed his tattoo: The Broken Native. My involvement, a privilege, was to be a companion on healing his broken native.
He a boy who was terrorised for being a black Nigerian. A boy journeying through the wounds of racism, bullying and terrorisation though to finding power and healing.
Janet Redmond was an amazing asset to have in Stylebender, the feature Doco about Israel Adesanya. To see the worlds champion UFC fighter dig into his vulnerability is big, especially for young boys to witness. Janet was able to unlock the inherent contradictions in Israel and his fears but channel them into a focused power in the ring.

Zoe Mcintosh – movie director
At the end of the filming of the movie Fraser Brown, the director said "You should be an actor" I mused in response. Why would I need to act when I am the real thing? If you want the real thing get in touch.
Some of the most powerful scenes in Stylebender are of Adesanya's counselling with "possibility manager" Janet Redmond, where the pair unpick the ways in which his fighting may or may not reverse the powerlessness young Israel felt while being dangled over a school urinal. – Sunday News 24 Sep, 2023
As Izzy's Possibility Manager in the movie, I welcome you to a free Q&A feel to Heal event . . .